Direct marketing meaning : and features, examples, advantages, disadvantages, importance.Direct Marketing is a type of marketing comprising any market strategy that relies on direct communication and distribution to individual customers.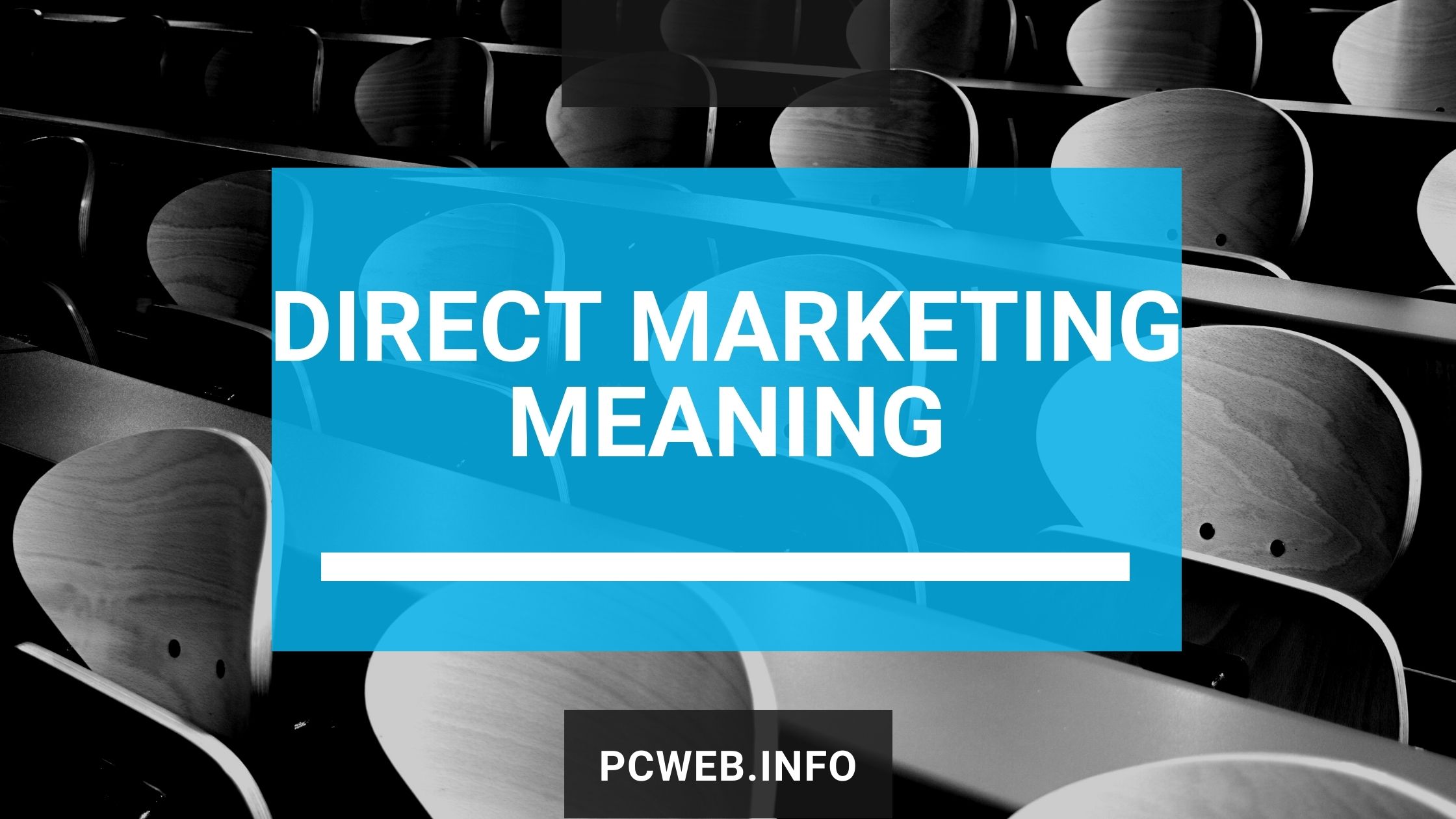 In direct marketing rather than relying on a third party like mass media you directly communicate with your customers.
Emails, mails, texting, messages, social media all are included in direct marketing. They are also known as direct marketing as they connect you directly with your targeted person and it eliminates the middleman of your communication such as advertising media.
The most common factor of direct marketing is a call to action and this factor increased the effectiveness of direct marketing over media advertising. This call to action feature urges the recipient to immediately respond to a toll-free phone number.
The third party is of no importance in such communication as this business operates independently. In direct marketing emails, emails, messages, or SMS are used to deliver the message to customers.
Another important feature that makes direct marketing significant is that it often attempts to personalize the message by filling in details such as the recipient's name or city for better engagement.
A message sent through direct marketing to the widest possible audience is not effective at all. In this way, the company succeeds in getting only a few customers by annoying all other uninterested people. To use direct marketing, it is effective to use the list of targeted individuals for sending a message to the likeliest prospects.
The oldest form of direct marketing is cataloging which has been in use from the latter half of the 19th century. Moreover, now catalogs are being sent to only those customers who show an interest in the previous purchase of the product. Social Media has emerged as the most modern form of direct marketing.
Direct Marketing Features
There are different features of direct marketing about which you should be aware to make use of it properly. Firstly, direct marketing is all about the customer concept. It focuses on the individual customer. At the same time, it does not deal with a large number of customers but with whom it deals it makes it clear they have understood the basis of communication.
Direct Marketing is also termed one-to-one marketing as it focuses on the large expenditure of individual customers. Middlemen are involved in direct marketing. These intermediaries may complex the relationship between customers and management. Producers are seen actively engaged in delivering a product to customers.
As it can be understood from its name, direct marketing requires direct interaction between manufacturer and customer. It is one of the ways customer-oriented marketing is performed through an indirect channel.
Another feature of direct marketing is that it allows customized messages and products. The messages and products are intended for specified groups. The promotional messages are prepared on-demand and personalized to persuade the selected customers. These products and messages are not suitable for all types of customers.
Direct Marketing Examples
There are different types of direct marketing used by companies. They can be used in the best way depending on the company's brand and accompanying current marketing goals. These are mail marketing, messenger marketing, email marketing, mobile marketing, web push marketing.
A few common examples of a direct marketing campaign are mail marketing, SMS marketing, and many others. An example of an email newsletter is the image of the email from an online pet retail store. In email marketing information is directly delivered by the company to customers' inboxes where they can be informed by new products.
The word "Shop Now" in the different advertisements is an effective call to action. Interested customers are directly led to the company's website where they purchase the products and have a look at current deals and promotions too.
Now let's have a look at the explanation of SMS Marketing too. Text messaging is also a type of text marketing. SMS Marketing is used to text messages to the customer with funny images and GIFs. From SMS the companies send reminders to customers about their products.
Starbucks is famous for conducting text messaging campaigns like this. A year prior they constructed an SMS trivia game that was used for offering prizes to customers and encouraging them to sign up for getting the latest notifications. These notifications informed the customers about the exciting promotion of Starbucks.
Direct Marketing Advantages
There are several advantages of direct marketing that can assure you about the quality of work that direct marketing provides.
If you pay attention to the structure of direct marketing for making them good then you can promote your business by promoting a specific product or service and can persuade your customers to act, register to invest, visit your website, and many other profitable tasks.
The most praised advantage of direct marketing is that it reduces the cost you may have to spend in the case of traditional marketing.
Companies are free to create their material reducing overall marketing costs to a great extent. It also reduces the cost of hiring a third party as companies are not in the need of spending additional money on advertising agencies for asking for their help.
Another benefit of direct marketing is that it defines better relations between the customers and the one dealing with them. The art of creating advertising that directly communicates with customers develops better business relationships.
Through direct messages, a personal environment is created especially when it is the job of the company to add personal information such as buying habits and names. The loyalty of customers increases; they feel that the company is valuing their time and serving them personally.
Customers are always informed about every detail and step taken. It is great to tell the customers about the details of products and services provided by the company. This increases the chance that customers will take interest in information more than that required and learn about the additional offers made by the company.
Direct Marketing can be credited for increasing sales as by engaging customers in ads they can increase their overall sales and revenues. Customers are directly sent the messages of promotions and discounts and the interested one seeks benefits from the opportunity immediately leaning to more sales, especially in the case of emergency.
Direct Marketing provides you the advantage to adapt and respond according to the needs of the market. You can be destined to fast and flexible sales along with getting direct feedback.
Direct Marketing Disadvantages
The disadvantages of downsides that you may face while operating on Direct marketing must be in your knowledge to protect you from losses.
As it is new for many people they find it very annoying and intrusive. It is an observed fact in the case of telemarketing and door-to-door sales. All of the customers did not pay attention to these emails and regarded them as junk mail.
It's all dependent on customers that if they find your marketing tactics intrusive it can create the worst impact on your brand association making it difficult for you to sell.
The environment can also be directed by direct marketing if paper-heavy direct campaigns are in your regular use. This drawback can be lessened by recycling materials and trying email campaigns.
Direct Marketing can be highly affected by the response rate of customers. If you reach a customer not interested in your products and services and you keep on sending messages to them the response rate you are likely to get is between 1-3% which is very low. In this case, it would result in loss of your money.
Increasing competition is the main challenge for you in which you have to survive. If customers like someone's ads more than yours then you will have to work extra hard to recover your position.
Legal Issues can be a serious issue against which you may be forced to step back. The laws relating to privacy and data protection while starting campaigns must be taken into consideration. We assure you that on your mailing list only those customers are available who have shown their consent to receive the marketing message.
Direct Marketing Importance
Direct Marketing is important because it is trackable. The offer that you have sent to your customers will consist of a specific link or code. When a customer will call or click on the link given by you, you will get to know that your campaign is working.
You can see how many customers have responded to your campaign and how many sales and profit you have generated. You will be informed whether your campaign needs changes or not over the response given by customers.
Direct Marketing is customizable. You can adjust your offer and even extend the expiration date of your offer. You can make changes in the existing offer too for introducing variation in it. Variable printing ad email segmentation are two features that can customize your email marketing programs.
The knowledge of key demographic characteristics such as homeownership, age, reading habits, browsing, and income range can lend you a helping hand to customize the message. Through direct marketing, you get into your prospective customer's hands at the same time when they open their mailbox.
Read also: Digital Marketing Benefits; Importance of international marketing; Origin of digital marketing
External resources: Investopedia
This post is also available in:
English
Français (French)
Deutsch (German)
Dansk (Danish)
Nederlands (Dutch)
Svenska (Swedish)
Italiano (Italian)