Restaurant policies: and procedures, for customers, example, and rules, for employees, insurance policies, kitchen policies. Taking care of the safety of food in a restaurant is one of the most critical tasks entrusted to restaurant managers and staff. To prevent the spread of food-borne illnesses, regulations and procedures have to be followed.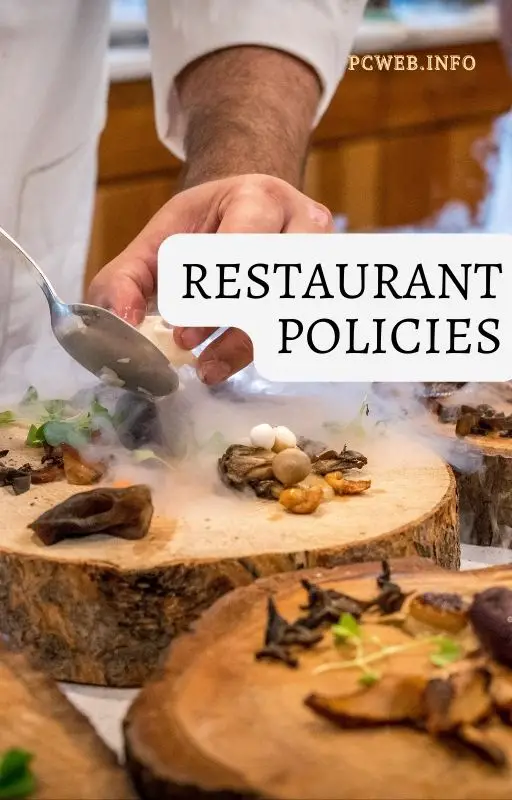 Maintaining both the satisfaction of your staff and compliance with your company's standards can be difficult. A clear and consistent policy section in your employee handbook (as well as signage elsewhere in your workplace, if necessary) will explain all of your policies to your employees. You should ensure that each and every policy is discussed with your new employee when they are hired so that they are aware of them immediately.
As a manager, it is equally important to be diligent in following all of the rules and guidelines you have established for your staff. It may be reasonable to assume others will follow suit if one employee gets away with something. In the case that a worker complains about unfair treatment, you may be held legally responsible.
Procedures
Following are the restaurant policy procedures:
Handwashing
The hand washing protocol should be followed at all times. Post a poster on each sink emphasizing the importance of handwashing, and ensure that everyone in the team follows it.
FIFO
Food should always be stored according to the FIFO principle: First in, first out. Food newer than two months ago should be kept at the bottom or behind the stack, with older food being used first.
Dishwashing
It is imperative that dishwashing processes comply with state regulations. Using the three-sink system, alternate between washing, rinsing and sanitizing. Keep a supply of test strips on hand so that you can test the sanitising water regularly.
Tables
Cleaning and sanitizing the tables should be done after each customer. Water for sanitizing needs to be kept in a separate bucket which is changed on a regular basis.
Sick employees
If an employee has a cough, sneeze, or other symptoms, they should stay home in order to avoid infecting their coworkers.
Temperature
You should check the temperature of your food several times throughout the day using digital thermometers. Generally, cold food should be served at a temperature below 40 degrees, while hot food should be served at 140 degrees. If the meal does not fall within the range specified, it should be discarded immediately.
For customers 
Each restaurant must provide excellent customer service. Unless your service exceeds your customers' expectations, no matter how beautiful your restaurant is or how great your food is, you will not return to your restaurant. Service to customers extends beyond front-of-house staff and includes many aspects of a restaurant's daily operations.
It is the golden rule of business. It is imperative that you never, ever tell a customer that they are incorrect, despite the fact that you think they are. It is important to listen to their criticism or recommendation and to be empathetic. Even the best restaurants will run into problems from time to time, and how they are handled will determine whether customers come back or not.
The front of the house represents the front of the house's customer service, but maintenance workers and kitchen cooks also extend the service to guests. Each restaurant employee plays a part in providing outstanding customer services, such as providing clean restrooms, tasty dishes, and a welcoming, cheerful environment.
As an example, Facebook and Twitter enable you to communicate with clients easily and for free. In addition to posting daily and nightly deals, you "like" your customers' status updates and invite them to restaurant events.
Rules 
Children should be fed as soon as possible
Let the customer finish clearing the dishes before clearing them
Bring water right away when the customer asks
Don't be pushy, just attentive
When people arrive, seat them
in a timely manner and don't make guests wait forever for their change, bill, or credit card
Don't confuse guests with unclear bills
Do not add condiments, sauces, or cheese without their knowledge
Do not harass them
For employees 
The policies for employees are listed below:
Establish a strict policy against cell phones
Employers are most concerned about employees using cell phones on the job. You should put this policy into place and follow it religiously as a restaurant owner/operator. Posting a large sign in the kitchen that states "Phones are prohibited in the kitchen while on duty" is often helpful to business owners.
Other employers insist that their employees keep their phones in their lockers during the day and only check them during their breaks. Clearly mentioning this policy in your employee handbook and requiring signed acknowledgment by each employee will ensure they are aware of the infraction and consequences of using a phone while on duty.
Keep your employees' hands clean by washing them
Restaurants/foodservice operations must enforce proper hand washing procedures as one of their most important standards. Place signs with hand washing instructions next to each sink in your company and make sure everyone follows them.
The employees should wash their hands whenever they start their shift, as well as after eating, drinking, smoking, using the bathroom, taking a break, and using their cell phones, among other things.
Specify a dress code
It's important for restaurants to have a dress code for their staff that reflects their corporate image. Restaurant/dining experiences can also be unique due to their dress codes. By wearing uniforms, your employees can distinguish themselves from visitors, and they can take pride in working for the restaurant or foodservice organization.
It is important that you lay out a specific dress code for your employees. The personnel in your company, for example, wear correct/clean boots and pressed clothing. The fingernails on the hands should be kept clean and short, and long hair should be tied back. If you want to project a certain image to visitors of your business, consider what kind of employees you should have.
Establish work-related drinking rules
Alcohol consumption can be a severe problem in any business, but it is particularly problematic in restaurants. Customers who order alcohol should be served by staff that is fully certified and follows all provincial regulations.
It should however be possible to enforce some kind of policy concerning employee consumption of alcohol on the premises (whether it is during or after their shift). Many restaurants, for example, require that employees leave the establishment after their shift and return wearing street clothes if they wish to eat or drink there.
Other eateries make it illegal for any staff to drink alcohol on the premises. Ensure that your personnel is well-versed in your company's regulations and standards.
Be "zero-tolerance" to harassment
There is unfortunately a high rate of harassment in the workplace, especially sexual harassment. As harmful as discrimination based on race, religion, disability, or sexual orientation, is discrimination based on any of these factors.
Take a "zero tolerance" stance against any form of harassment at your business. Make sure that every single employee sign and understands your anti-discrimination/anti-harassment policy. Take a course if you're not sure what constitutes harassment. There are a few that are specifically designed for the restaurant and foodservice business. Prepare your managers and team leaders to handle any problems that may emerge.
Insurance policies 
Listed below are the insurance policies:
General Liability Insurance
The coverage protects the employer against legal fees and other costs associated with lawsuits resulting from accidents that caused bodily injury or property damage. It would cost you a great deal of money if something were to happen to one of your consumers or clients without this type of insurance.
Commercial Property Insurance
Wouldn't it be a pity if the restaurant's business assets were damaged by an event, like a fire, and needed to be repaired or replaced? Quite a bit of money could be at stake here. If your business property is damaged or lost, business property insurance will cover the damage or loss so you won't have to worry about overspending.
Workers Compensation Insurance
Employee-oriented policies are created for employees' benefit, as their name implies. Hospitalization and rehabilitation costs for your employees are covered by their work-related injury insurance. Employees will also be covered for lost wages if they are on leave during the recovery process.
Cyber Liability Insurance
Your company maintains a database of customers' information, right? Are you accepting credit cards? Buying cyber liability insurance may be necessary. Increasingly, consumers are choosing to manage their transactions digitally in order to save time and money. Protect the private information of your customers by obtaining this coverage.
Kitchen policies
The rules for food handlers' safety cards vary from state to state. Some states require everyone working in a restaurant to get one and update it every few years, but other states do not. It never hurts to get a refresher course on these topics every now and then, whether you work there or not. These five rules apply to anyone working in a restaurant, whether you're in a chef's position or not.
Label and date
Observe the F.I.F.O rule- always
Before washing your plates, you must scrape and rinse them
Handle foods properly
Safe holding temperature
Read also:

Restaurant Policies
Political Factors Affecting a Restaurant; OSHA Regulations for Restaurants ; Tourism industry meaning; PEST analysis of a restaurant
External resources: Bizfluent
This post is also available in:
English
Français (French)
Deutsch (German)
Español (Spanish)
Nederlands (Dutch)
Svenska (Swedish)
Italiano (Italian)