Introduction: Samsung BU8000 vs Sony X80K. Samsung BU8000 and Sony X80K are popular TV models from their respective manufacturers. When purchasing a new television, it's essential to consider various factors such as picture quality, features, design, and overall performance.
The Samsung BU8000 and the Sony X80K are popular models in the market. In this comparison, we will delve into a detailed analysis of these two TVs to help you make an informed decision.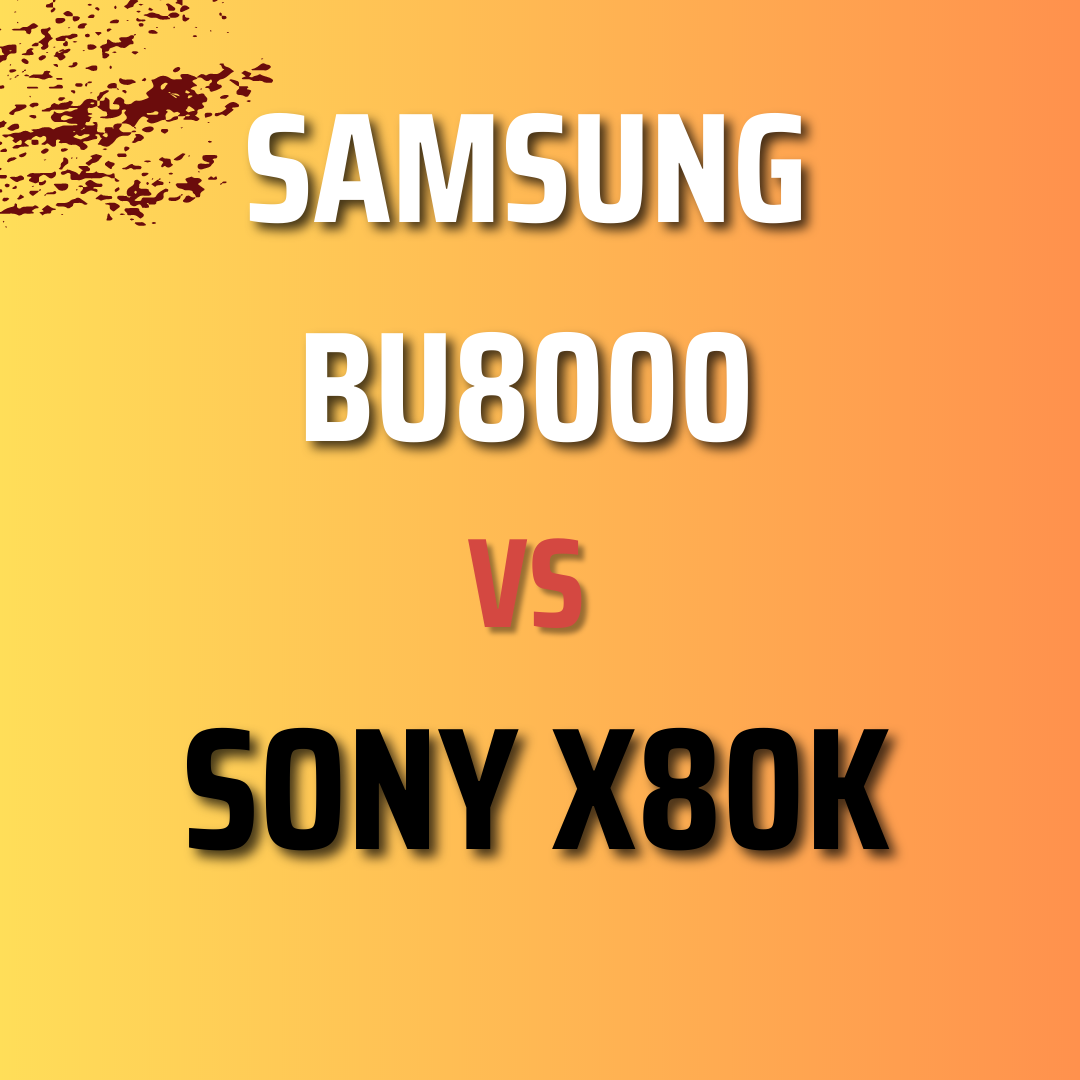 Picture Quality:
Regarding picture quality, the Samsung BU8000 and Sony X80K offer impressive visuals but differ slightly in certain aspects. The Samsung BU8000 features a 4K UHD display with a 3840 x 2160 pixels resolution.
It utilizes Samsung's Dynamic Crystal Color technology, which enhances color accuracy and vibrancy. The TV also employs HDR (High Dynamic Range) technology, specifically HDR10+ support, to deliver a broader range of contrast and more detailed images.
On the other hand, the Sony X80K also boasts a 4K UHD display with the exact resolution as the BU8000. It uses Sony's Triluminos Display technology to produce vibrant colors. Additionally, it supports HDR10 and HLG (Hybrid Log-Gamma) for improved contrast and dynamic range.
Regarding general picture quality, the Sony X80K tends to have a slight edge over the Samsung BU8000 due to its use of Triluminos Display technology, which offers more nuanced color reproduction. However, both TVs deliver sharp details, vibrant colors, and decent contrast levels characteristic of 4K displays.
Design:
Design is a subjective aspect, but it plays an essential role in the overall appeal of a TV. The Samsung BU8000 features a sleek, modern design with slim bezels and a thin profile. It has a minimalist aesthetic that blends well with various room setups. The TV has a sturdy stand that provides stability but can also be wall-mounted for a more streamlined look.
The Sony X80K, too, exhibits a sleek design language. It features slim bezels and a slim profile, which gives it a premium appearance. The stand of the X80K is well-designed and provides good stability. Like the BU8000, the X80K is also VESA wall-mountable, freeing up space and achieving a clean look.
While both TVs have appealing designs, the choice ultimately comes down to personal preference. Both models prioritize aesthetics and should seamlessly fit into most home environments.
Smart Features:
Samsung's BU8000 runs on the Tizen operating system, which offers a user-friendly and intuitive interface. It provides access to various apps, including popular streaming services like Netflix, Amazon Prime Video, and Hulu. The Tizen platform also supports voice control, allowing you to interact with the TV using voice commands.
On the other hand, Sony's X80K operates on the Android TV platform, which provides a vast selection of apps and services through the Google Play Store. It also offers voice control functionality via the built-in Google Assistant. Both platforms have advantages, and the choice depends on personal preferences and familiarity with the respective operating systems.
Audio Performance:
While the picture quality is essential, audio performance is equally crucial to create an immersive viewing experience. The Samsung BU8000 features a 2-channel speaker system with a total output of 20 watts. It uses sound-enhancement technologies like Dolby Digital Plus and Multiroom Link to deliver precise and balanced audio. However, due to the slim design, the audio output may need more depth and bass.
In comparison, the Sony X80K also has a 2-channel speaker system with a slightly higher total output of 30 watts. The TV incorporates Sony's Clear Audio+ technology to provide enhanced sound quality. Additionally, the X80K supports Dolby Atmos, a more advanced audio format that offers a more immersive soundstage.
If you prioritize audio quality, the Sony X80K's support for Dolby Atmos and higher speaker output make it the better choice. However, for a more immersive experience, consider complementing either TV with an external soundbar or a dedicated audio setup.
Connectivity and Additional Features:
The Samsung BU8000 and Sony X80K offer various connectivity options to accommodate various devices. They come with multiple HDMI ports, USB ports, Ethernet, and Wi-Fi connectivity for seamless integration into your home entertainment setup. These TVs also support Bluetooth, allowing you to connect wireless headphones or speakers.
Regarding additional features, the Samsung BU8000 offers the Ambient Mode, which transforms the TV into a decorative element when not in use. It can display artwork and photos or blend with the wall's pattern to minimize its presence in the room. On the other hand, the Sony X80K provides access to the PlayStation Now cloud gaming service, allowing you to stream and play various PlayStation games directly on the TV.
Gaming Features:
The Samsung BU8000 and the Sony X80K offer gaming-specific features if you're a gamer. The BU8000 utilizes Samsung's Game Enhancer technology, which reduces input lag and provides a smooth gaming experience. It also supports Variable Refresh Rate (VRR) and Auto Low Latency Mode (ALLM) for compatibility with gaming consoles.
The X80K, on the other hand, features Sony's Motion flow XR technology, which decreases motion blur and provides smooth gameplay. It also supports HDMI 2.1, enabling features like 4K/120Hz and Variable Refresh Rate. Gamers will find both TVs suitable for gaming, but the X80K's HDMI 2.1 support gives it an edge in future-proofing.
Price and Value for Money:
The pricing of these TVs may vary depending on various factors such as region and availability. Generally, Samsung TVs tend to be competitively priced, and the BU8000 offers excellent value for its price range. The Sony X80K, while slightly more expensive, justifies the cost with its superior picture quality and additional features like Dolby Atmos support.
Ultimately, choosing the Samsung BU8000 and Sony X80K depends on your requirements, preferences, and budget. If you prioritize picture quality and are willing to spend a little more, the Sony X80K might be the better option. However, if you value a user-friendly, innovative platform and a competitive price, the Samsung BU8000 is a solid choice.
Conclusion: Samsung BU8000 vs Sony X80K
In conclusion, the Samsung BU8000 and the Sony X80K offer impressive features and performance. The BU8000 excels in color accuracy and the user-friendly Tizen operating system. On the other hand, the X80K provides excellent picture quality with its TRILUMINOS Display and offers advanced audio technologies like Dolby Atmos.
Additionally, the X80K's Android TV platform and HDMI 2.1 support make it an attractive choice for gamers. Finally, the decision between these models will depend on your specific requirements, preferences, and budget. Visiting a showroom or reading customer reviews to experience the TVs firsthand before making a final decision is recommended.
Also read: Samsung q vs qn; Samsung QLED vs OLED; Samsung q95 vs LG cx
This post is also available in:
English
Deutsch (German)
Nederlands (Dutch)
Italiano (Italian)