Second party audit: Is, example, iso 9001, objectives, Purpose. It is almost impossible to manufacture goods without the help of suppliers to supply the high-quality components needed. The majority of their quality problems are attributable to pass-through or provided parts.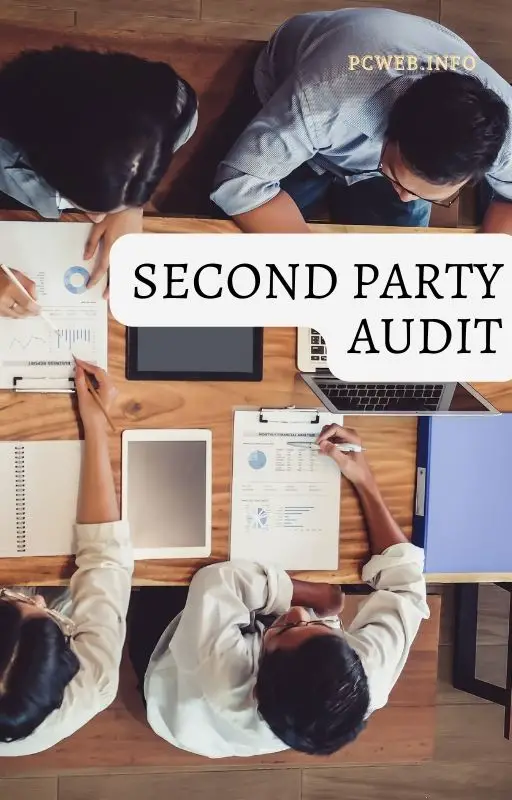 A certain amount of quality control is lost when a component part or subassembly is manufactured by a second- or outside supplier. In this regard, businesses must be attentive to the management and growth of their supply chain.
Well-planned and executed second-party audits of suppliers are especially helpful in evaluating potential future suppliers and controlling the quality of current components and assemblies. Using non-compliant parts or late deliveries from your supplier could reduce efficiency or cause production losses, late customer deliveries, and quality issues or recalls.
Companies' bottom lines can be adversely affected by non-compliant supplier parts. The decision to select and manage suppliers carefully is crucial to a company's ability to thrive and grow, including a thorough assessment of their process capability and capacity. The implementation of a well-designed, comprehensive second-party audit system will assist you in preventing quality and supply issues, thereby enhancing your bottom line.
What is a second party audit?
Audits performed by a third party are often known as external or supplier audits. An external or first-party audit is typically more formal than an internal or second-party audit. The audit's findings may have an impact on future purchase decisions in some cases.
The audits could also be in reaction to one or more quality issues with parts or assemblies from the supplier. A contract between the customer and the supplier is frequently involved, and it specifies the delivery, pricing, packing, quality criteria, and other aspects. As a result, second-party audits are often subject to contract law norms and restrictions.
Example 
Typical names of second party audit:
Supplier audit
Contract audit
Compliance audit
Due-diligence audit
External interested party audit
Iso 9001 
Clients frequently require certification to the ISO 9001 standard for external product and service providers, as well as their subtiers. When companies are attempting to identify, minimize, and mitigate supply chain risk, they rely on a certificated management standard and independent evaluations conducted by certification bodies in order to do so.
Second-party auditors, who perform audits for their employers most of the time, realize accreditation won't solve every issue. After all, if certification ensured that the standard was followed at all times, audits would be unnecessary, and the standard would not require internal auditing.
Many individuals believe that once a company is certified to ISO 9001 by a certifying authority, second-party audits are no longer required, however this is not always the case.
Even if you have been certified by a third-party audit, any of your clients may choose to conduct a second-party audit to examine aspects of their contract, particularly if these parts differ from the ISO 9001 criteria. Although not all clients require this, and it is not necessary to be certified to ISO 9001 by a certifying authority, it is specified in some contracts, and some customers prefer to conduct these audits.
Objectives 
The need for 2nd Party audits might arise from a variety of factors. An external audit may be conducted when a company is:
Creating a new product and selecting sub-component sourcing
Approval of a new supplier for current part or commodity sourcing
During a cost-cutting endeavour, looking for alternative parts sources.
Investigating a problem with the supplier's product's quality.
Confirming the fulfilment of a previous quality issue's corrective measures
As part of a supplier management process, doing a review or maintenance audit
A 2nd party audit is a useful mechanism for ensuring that all current and future suppliers meet or exceed predetermined standards, strengthening a company's supply chain. It is one of the main goals of a thorough supplier audit to prevent your customers from being affected by quality issues.
Furthermore, the audit can be used to ensure that the supplier can provide the required quantity of parts. A well-thought-out 2nd party or supplier audit system ensures that high-quality parts are delivered on time and every time.
It was recently found that even "benchmark" corporations can have problems with supplier quality. 2nd party audits as part of a successful supplier management system are far less effective than product recalls, field campaigns, and brand equity losses.
Purpose
Second-party audits are a useful tool for enhancing a company's supply chain by ensuring that current or potential suppliers can meet or surpass their customers' expectations. When an organisation outsources a product or service, it relinquishes some control; it is critical that this risk is managed.
The new ISO 9001 standard's emphasis on risk-based thinking and achieving customer expectations can only be a good thing. The data suggests, however, that more work needs to be done to guarantee that all auditors interpret the standard in the same way.
The second-party audit is conducted by an organisation that already has a relationship with a supplier, such as a buyer, in order to make sure the vendor is complying with the terms of the contract.
In ISO 19011:2018 note 2, the word "external audits" is defined as "second-party audits" – a process carried out by individuals who have an interest in the organization, such as customers or other representatives.
A special level of control over certain processes, specific documentation requirements, pollution prevention or compliance evaluations, or any other requirement of particular importance to the customer are examples of these requirements.
Auditors can carry out these audits on-site where they examine the processes, or off-site where they study the documentation provided by the suppliers. An audit can be conducted on all or parts of the contract, based on the customer's needs. In addition, you need to remember that a second-party audit is a contractual agreement between the client and the supplier, and does not relate to ISO 14001 certification.
Second-party audits were long assumed to be unnecessary if a company was certified to ISO 14001 by a certification organisation, however this is not always the case.
Even if you have been certified by a third-party audit, your clients may want to conduct a second-party audit to examine aspects of their contract, particularly if these parts differ from the ISO 14001 criteria. Although not all customers require this, and it is not necessary to be certified to ISO 14001 by a certifying authority, it is included in certain contracts, and some customers prefer to conduct these audits.
Services
All across the world, companies are constantly searching for ways to save money and increase quality. Formerly reliant on domestic material procurement, many manufacturers have now re-evaluated their supply system and are seeking overseas suppliers to expand their customer base.
Throughout the long term, critical parts need to be delivered on schedule and with high quality. In order to effectively manage the supply base, a solid system of development, qualification, and monitoring must be developed.
The 2nd party audit is an important tool for supplier management, sourcing high-quality new components and assemblies, and establishing a reliable supplier base.
To be successful, implementing and sustaining an effective 2nd party auditing process necessitates highly qualified experienced auditors and a solid auditing plan. We can give the information and help you need to build an effective and rigorous 2nd party auditing procedure for your company at Quality-One.
As part of our 2nd Party Audit Consulting Services, we assign a Subject Matter Expert (SME) to carry out the following tasks:
Determine your specific auditing requirements by examining your current auditing process and resources.
Create a detailed plan for implementing and maintaining an effective 2nd party audit system tailored to your organization's needs.
Describe your goals and provide guidance on how to achieve them.
Document and streamline any processes that are needed.
Mentor the leadership team and audit team to improve your success rate.
It is critical to create and maintain a strong supplier base by implementing a well-planned and effective 2nd party audit process. A robust 2nd party audit system will require a significant investment of time, skill, and resources to develop and implement. It may become necessary to hire additional resources immediately in certain circumstances.
However, finding suitable candidates takes some time. SMEs with technical expertise in your field that can come in and begin working immediately are needed. We are well-known in the business for providing both short- and long-term contracting services. Quality-Second One's Party Audit Support delivers the assistance you require, allowing your team to complete quality initiatives and goals on time.
Conclusion: Second party audit
Second-party audits are done by companies to verify whether their suppliers are adhering to the contract's parameters. These requirements can be specified to control certain processes (such as soldering or welding), to receive part traceability (knowing which parts are used in which products), to require specific cleanliness standards, or to require specific documentation.
On-site audits can be performed by observing processes, and off-site audits can be performed by reviewing papers given by suppliers.
Depending on what the customer thinks needs to be audited, the customer may audit the entire contract or only part of it. The importance of understanding that the second-party audit is between the supplier and the customer and has nothing to do with being certified.
Read also: Software Business Model; Restaurant Policies; CEO Meaning
External resource: quality-one
This post is also available in:
English
Français (French)
Nederlands (Dutch)