Marriage in California: laws, community property, age, License, Register. Marriage is a union of two souls; according to the plan of God. These bonds bind two people together for the rest of their lives. Each country follows its procedure concerning marriages in its respective jurisdictions. Similarly, California has its laws and process regarding marriages.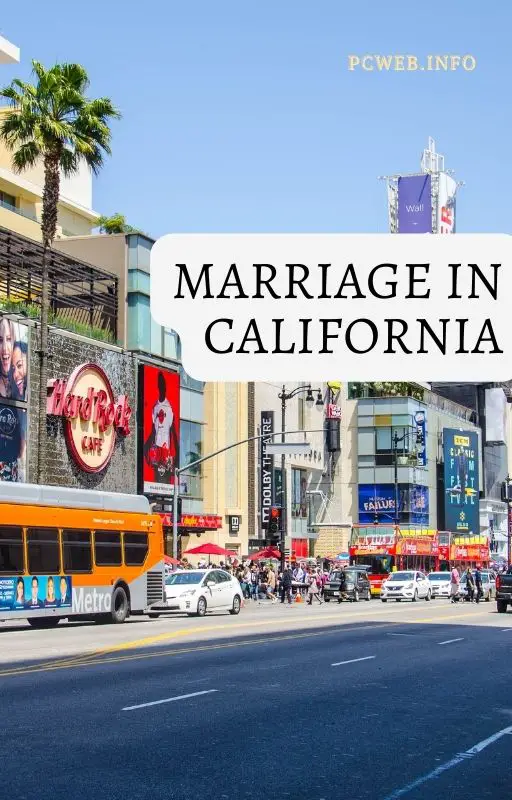 Many states require a marriage licence to marry, while some do not. But does California law require a marriage licence to validate a marriage? 
What are the age requirements to get married under California law? 
How to Get a Marriage Licence in California?
 Read the full write-up to get answers to all your questions.
Marriage laws in California
California, a state known for its unique wedding styles and beautiful venues, requires every couple to get a marriage licence to legalise their marriage.
According to sec 308.5, under California family law, a marriage between a man and a woman only gets reckoned as a valid marriage. Any other form of marriage in California gets regarded as illegal. 
California Family Code section 300 defines marriage as a personal relationship arising out of a civil contract between a man and a woman. In California marriage law, there are three requirements to get married;
Both the parties must be at least 18 years old(without consent of the parents) or below 18 years old(with the parent's consent and the permission of the court)
Both parties must give their consent.
They must not be incapable of consenting.
Here consent means free will. They must not be under the influence, misrepresentation, fraud, duress, or intoxication. If these requirements get met, they are allowed to get married.
To solemnise a marriage consent of both the parties to the marriage is necessary, but the consent does not constitute a marriage alone. Although consent is required, a marriage licence and solemnization according to state law are essential. For these purposes, the United States or California residency is not mandatory. Californians allow every person, either resident or non-resident of the state, to obtain a valid marriage licence under the state law.
In a nutshell, California marriage law requires a couple to obtain a marriage licence and then have a wedding ceremony within 90 days of issuance of the licence. If the couple misses the date to solemnise marriage, they need to apply for a marriage licence. 
Besides, this licence is your marriage pass. The officiant will not allow you to marry without showing your marriage licence, so bring it along on the wedding day.
To obtain a marriage licence a couple needs to follow a simple procedure and submit their identity proof as prescribed.
Marriage in California and Community property:
"What is mine is yours, what is yours is mine" these lines define community property. 
Community property is also known as joint property or assets. When a man marries a woman, they become a community, and all the things they own individually during the marriage become their community property. A married male and female; count as one unit. They share equal responsibilities and a duty to care for each other. 
California gets reckoned as a community property state which means that when two persons tie a marriage bond in California, they become a community or union. All the debts, assets, and property that one person acquires during the marriage become the couple's community property.
According to California family code section 760, all the property, either actual or personal, wherever situated owned by one spouse during the marriage becomes their community property. However, any property acquired before marriage does not count as community property. The person who owns the property has sole right over that property.
During divorcé, the community property gets distributed among both parties equally. Thus, whether the property is in the name of one spouse, they have equal rights on the property.
What is the legal age for marriage in California?
The legal age to get married differs from country to country. 
Like most countries, California prescribes 18 years as the appropriate age for getting married. According to California family code, section 301, an unmarried man and woman of 18 years or older, capable of giving consent can legally get married in California. 
Thus, to get married in California, both parties must meet the required age criteria of 18 years or above. They are not required to get their parents' consent for marriage.
However, if either party or both parties are below 18 years of age, they can get married but with the court's permission.
According to California family code section 302, if either party or both the parties are below 18 years of age and capable of making consent, they can get married if they submit the following document to the county clerk authorised to issue a marriage licence:
Minors' parents or guardians wrote consent 
Court permission to marry
After submitting the following documents to the county clerk, submit the other required documents, such as identity proof and birth certificate, and they can get a marriage licence.
Besides, both parties need to participate in premarital counselling (section 304 under the California family code). The primary purpose of these premarital counselling is to make both parties aware of their social, economic, and personal responsibilities. Thus, California law does not forbid a minor person to get married in any part of the state.
How to get a Marriage Licence in California:
Every couple willing to get married in California requires to get a marriage licence and organise a marriage ceremony within 90 days of such issuance. The marriage licence requirements under California law are different for public(regular) marriages and confidential marriages. 
In order to obtain a regular marriage licence, the couple needs to visit the county recorder and apply for a marriage licence. You need to provide some identification proof and information along with the requisite fees. As per California family law;
Both the parties willing to get married must apply in person to any country clerk office in California. The parties need not apply to the county office where they live or where they are getting married. They can apply to any county office in California. Get a prior appointment, as there may be a waiting line.
After applying, submit your identity proof, such as a driving licence, passport, and birth certificate.
The parties are required to pay a fee for marriage licence issuance.Please note that costs may change between counties.
If either party is previously married, they are required to submit their divorce proof or death certificate of the former spouse.
The marriage licence will immediately get issued after receiving the consent of both parties. They do not have any waiting period to issue a licence.
After getting your marriage licence; you need to organise a marriage ceremony within 90 days from the date of issuance of a licence. Once you miss the deadline to solemnise your marriage, you need to reply for the marriage licence.
Bring your licence along with you. Officials will not allow you to marry if you do not have a marriage licence physically presented to you during the marriage ceremony.
One or two witnesses are required at the time of the marriage ceremony.
After Solemnising your marriage, you need to submit the licence to the county office within10 days. You can apply for the certified copy within10 days of the solemnization of your wedding.
How to Register Marriage in California:
Registering for marriage in California is not a daunting task. Every individual wishing to get married in California needs to register their marriage in the county clerk's court before their marriage ceremony. To register your marriage in California, follow these simple steps:
You need to apply to any county clerk for obtaining a marriage licence. 
The county clerk will ask you to submit identification proof and birth certificates. Submit all documents along with the required fees.
After reviewing all the documents, the county clerk will immediately issue a marriage licence. There is no waiting period for such issuance in California.
The marriage licence remains valid for 90 days. Within 90 days, the parties must get married. If the parties miss the deadline, they need to apply for a new marriage licence.
After solemnising your marriage, the authorised person who performed your marriage ceremony will return the marriage licence to the county recorder within; 10 days of the marriage ceremony.
After receiving the marriage licence, the county recorder will record your marriage licence. The marriage licence then becomes a marriage certificate.
To obtain a certified copy of the marriage certificate, you need to apply and pay the fees to the county within; 10 days.
Following these steps, you can get your marriage registered in California.
Read also: Adultery in California; Marriage in Florida
External resource: cdph.ca.gov
This post is also available in:
English
Español (Spanish)