Ethics in tourism: and hospitality industry, marketing, management. The tourism industry is growing enormously throughout the world. These industries alone can contribute to the world economy to a greater extent. Although there are numerous benefits attached to tourism, there are some negative impacts also.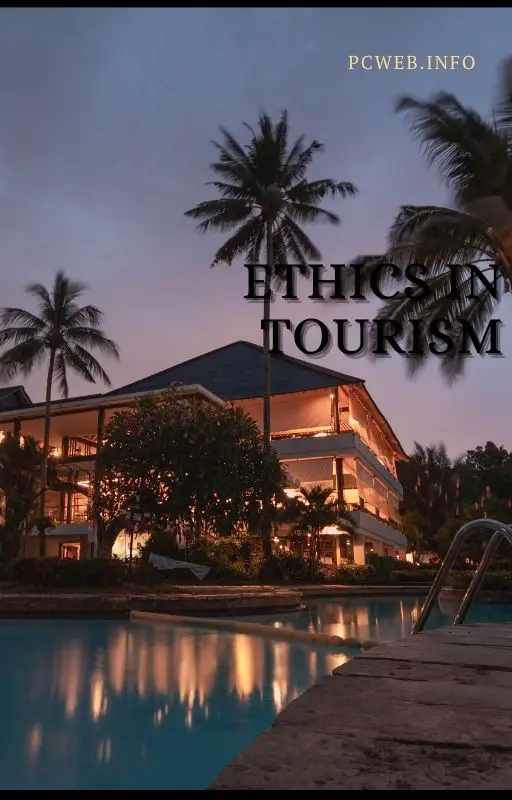 The tourist's action may cause environmental degradation, harm to culture and language, displacement of civilians, and nuisance to the public in the host region or country. To minimise the negative impact, the Global Code of Ethics for Tourism(GCET), prescribed comprehensive principles for ethical business. This set of principles governs the activity of the tourism industry to mitigate its negative impact.
Ethical tourism is a set of standards for tourists, businesses involved in tourism, and their stakeholders, aimed to prevent the negative impact of their actions on the environment and the local community in host destinations. Ethical tourism aims to avoid any activity; that negatively impacts the environment, culture and tradition, and the local community at the host destination.
As the tourism industry suffers several issues in their day to day operations, an ethical code of conduct becomes a crucial part of achieving its ultimate goal.
This ethical code requires a company, stakeholders, tourists, and community members to commit with high moral standards and social responsibilities.
Some of the ethical codes of conduct in tourism are fairness, honey, loyalty, righteousness, integrity, concern, and legality.
An ethical tourism business not only contributes to ecological and economic development; but also gains recognition at the national and international levels. An ethical tourism business promotes social awareness and builds trust among their customers and vast community; eventually resulting in high productivity and sales. Thus, ethics in tourism are essential for the sustainable development of businesses.
Ethics in Tourism And Hospitality industry
Ethics are a set of standards that regulate conduct and overall operations. This set of principles helps to differentiate between right and wrong. 
Ethics in the tourism and hospitality industry are vital aspects. The tourism and hospitality industry is a complex industry in which many things can negatively affect its overall operations.
The tourism and hospitality industry faces many ethical issues, including employee theft, corrupt practices, non-transparency with clients, harm to cultural and environmental degradations. An Ethical code of conduct in the tourism and hospitality industries is essential to cope with these issues and reduce the negative impact. 
This code of conduct prescribes a set of standards to be followed in the tourism and hospitality industry binding its management staff, stakeholders, suppliers, and clients. These ethics demonstrate what is right and wrong to make a good decision for sustainable development.
The tourism and hospitality industry faces several ethical issues at different stages. For the effective and sustainable development of the tourism and hospitality industry, they must adopt these set of principles in the day to day operations:
The tourism and hospitality industry are people-oriented industries. Thus, it requires the employer and its stakeholders to observe high moral standards while performing their routine business operations. Some principles are loyalty, truthfulness, fairness, concern, and integrity.
The tourism and hospitality industry must be aware of the ultimate results of their actions. The management should work and make decisions with integrity; no matter whether the outcome is beneficial or not. 
The tourism and hospitality industry must stick to the legal and ethical framework to achieve its ultimate goal. Managers must refrain from any unethical and illicit practices in their business operations.
The tourism and hospitality management staff must be fair and non-discriminating towards their clients and coworkers. Any unethical practice that leads to one's benefits by hurting others must get avoided at any cost.
A safe and comfortable working environment in the tourism and hospitality industry is essential to increase commitment and hard work. Employees are the assets of companies, and their well-being is the company's responsibility. Thus, a healthy environment for operations and creativity helps increase productivity and sales in a business.
Ethics in Tourism Management:
It is the duty of every citizen to preserve our ecosystem, and the same is expected from tourism management. Ethical tourism management encourages companies and businesses to know the good and evil consequences of their actions.
Every business management undertakes responsibilities for the effective development of the company. While doing these, they make several decisions daily. These decisions may possess a negative or positive impact at the social level. Poor management decisions not only impact their company but also affect people highly.
They must understand their moral and social responsibilities to mitigate the negative impacts of their actions.
Ethical tourism management is a set of standards for every company related to the tourism industry. These standards are essential to prevent negative consequences of management decisions on society. 
Tourism management should follow this ethical code of conduct to fulfil their moral as well as social responsibilities:
Honesty: a tourism industry deals with strangers unknown to the host destination laws and culture. Thus, tourism management must be honest and transparent while dealing with clients, vendors, and stakeholders. Managers should not mislead, cheat, lie or deceive their clients by partial truths or hiding facts.
Commitments: ethical tourism management must keep its promises. For instance, a hotel room booking cannot get cancelled afterward to fit in with other high-paying customers. Tourism management should not break the trust and faith of their customers and stakeholders. They must pay attention to every detail.
Righteousness: tourism management must possess qualities of moral uprightness. They must discourage immoral activities and behave in an ethical way when something wrong happens. They must choose the right no matter how beneficial the wrong is.
Adherence to law: tourism management must adhere to legal and ethical conduct while making essential decisions. They must stick to the legal practices and avoid deceitful and illicit practices.
Concern and Respect: They must show respect and concern to their client and coworkers. Concern and respect show the management's dedication at work and connection with employees. 
Faithfulness: faith is the key to a strong relationship. Breaking customers' faith can result in a deteriorating business reputation and loss of customers. Thus managers must remain faithful to their clients.
Loyalty: tourism managers must remain loyal to their companies and focus on the company's success. A loyal employee can make a successful company or break it into ashes.
Fairness: a tourism manager must treat all employees, suppliers, customers, and the community. A fair manager makes fair decisions without hurting anyone.
Leadership: a good leader makes a good business. Tourism Managers should motivate their stakeholders to achieve the common target.
Reputation and morales: tourism managers must work to protect companies' goals and the morals of stakeholders. They must refrain from uttering any that cause disrespect and adopt measures to prevent unethical conduct.
Thus, every tourism management should follow these standards while making crucial decisions for their businesses.
Ethics in Tourism Marketing:
As the tourism industry is growing, so are the harmful effects it produces. Although there are enormous tourism industry benefits, no doubt it negatively impacts the environment and communities at large. Over Tourism is a term that highly affects local communities and the environment.
These result in an increase in the price of commodities, high tax, and loss of residence of many local communities. Ethical tourism marketing gets highly regarded to mitigate these negative impacts without affecting business sales.
With the growing concern to preserve the longevity of host destinations and reduce community impact, ethical tourism marketing is widely adopted. Ethical tourism establishes a balance between attracting tourists and limiting their impact.
Ethical tourism marketing promotes host destinations by providing appropriate information and frailness of the environment.
Ethical tourism marketing mainly focuses on three goals: preventing community impact, sustainability, and ecotourism.
Ecotourism opens numerous opportunities for tourism marketers. Promote the benefits of tourism that funnel back for the economic development of local communities, conservation of natural resources, and sustainable development of host places instead of highlighting the negative impacts only. These can help to attract ethical tourists across the world.
Share the adventure stories, hiking trips experiences, and connection with nature instead of showing the tourists hotspots and places. Positive experience stories help attract tourists.
Sustainable tourism drives competitiveness, encourages responsible travelling, and creates sustainable offerings.
To reduce over tourism and attract ethical tourists, promoting responsible tourism is essential. It helps make people aware of the consequences of their actions on local communities and attracts ethical tourists.
Read also: Ethics in Marketing; Advertising Ethics; Classification of hotels by stars and diamonds; 1 Diamond Hotels
This post is also available in:
English
Français (French)
Deutsch (German)
Español (Spanish)
Dansk (Danish)
Nederlands (Dutch)
Svenska (Swedish)
Italiano (Italian)
Português (Portuguese (Portugal))